All Steel Carport Direct

The best service and quality at the best price

!!!
Have a question? (

1-877-662-9060

)
Noble Oklahoma OK Metal Carports Steel
Noble OK steel carport sample
Noble OK metal carport sample
22x36x8 Regular Style Carport
with: (1) Gable End
(2) Extra 36' Panels​​

​Retails for:
​$

2920

+ tax 14 ga
$

3095

+ tax 12 ga​​​​
20x21x7 A-Frame Style Carport
with: (2) Gable Ends
(2) Extra 21' Panels
​Retails for:
​$

1595

+ tax 14 ga
$

1695

+ tax 12 ga​​​​
22x26x9 A-Frame Vertical Roof Style Carport
with: (2) Gable Ends
(2) Extra 26' Panels
​Retails for:
​$

2775

+ tax 14 ga
$

2900

+ tax 12 ga​​​​
Noble OK Carports

are a great investment to protect your cars, trucks, vans and rv's! Noble

OK

carports are available by All Steel Carports Direct throughout the entire state of Oklahoma. We provide free installation and delivery on your level lot. We offer our all of our carports,

metal

garages, steel buildings and metal barns in both non certified and certified 130 MPH winds/ 30 PSF snow loads. All of our

Noble OK steel carports

and metal garages come standard with 29 gauge paneling for the exterior sheeting of the unit. We also have availble a heavier 26 gauge sheeting at an additional charge. For the areas requiring building permits we provide engineered drawings for our certified units.
In Noble OK we provide clear-span carports and ​​ garages up to 40 ft wide and as long as you have a level spot. Our side heights are available up to 14' tall. We provide all of our

carports

, metal garages, steel buildings, rv carports, utility carports and metal barns with your choice of

13 colors

for roof, sides and trim. So we should have a color to meet your needs. You are always welcome to call our friendly staff at

1-877-662-9060

or email them with years of building knowledge to help you throughout the pricing, permiting and delivery process.

Delivery times 2-4 Weeks up to 8 weeks!!!


Prices​​​ Starting at:
$

695​


(​

12x21x6 Regular Style

)



​​Insulation now available

!!

​​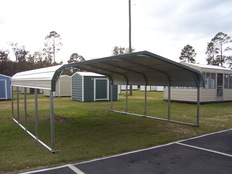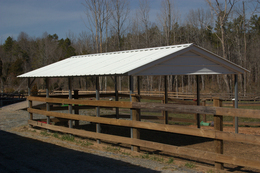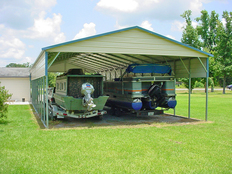 12x21x6 Regular Style Carport
(horizontal panels)
​
Non Certified (14 ga): $695

+ tax


Non Certified (12 ga): $795

+ tax


Certified (14 ga): $895

+ tax

​
Certified (12 ga): $

995

​​​ + tax
​​​
24x51x10 Boxed Eave Style Carport
(horizontal panels)
(2) Gable Ends(horizontal)
(4) Extra 26' Panels(horizontal)​​
​
Non Certified (14 ga): $

5270

+ tax
Non Certified (12 ga): $

5520

+ tax
Certified (14 ga): $

5580

+ tax​
Certified (12 ga): $

5830

​​​ + tax
18x21x7 Vertical Roof Style Carport
(Vertical panels)
(2) Gable Ends(horizontal)
​​
Non Certified (14 ga): $

1445

+ tax
Non Certified (12 ga): $

1545

+ tax
Certified (14 ga): $

1645

+ tax​
Certified (12 ga): $

1745

​​​ + tax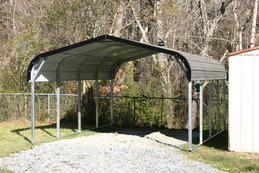 18x21x6 Regular Style Carport
(horizontal panels)
​
Non Certified (14 ga): $

795

+ tax
Non Certified (12 ga): $

895

+ tax
Certified (14 ga): $

995

+ tax​
Certified (12 ga): $

1095

​​​ + tax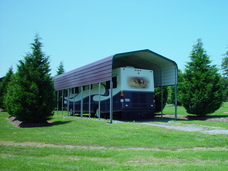 12x36x11 Regular Style Carport
(horizontal panels)
(2) Extra 36' Panels(horizontal)
​​
Non Certified (14 ga): $

2140

+ tax
Non Certified (12 ga): $

2315

+ tax
Certified (14 ga): $

2310

+ tax​
Certified (12 ga): $

2485

​​​ + tax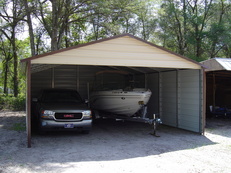 20x21x8 Boxed Eave Style Carport
(horizontal panels)
Both Sides Closed(horizontal)
(1) End Closed(horizontal)
(1) Gable End Closed(horizontal)
​​​​
Non Certified (14 ga): $

2505

+ tax
Non Certified (12 ga): $

2605

+ tax
Certified (14 ga): $

2770

+ tax​
Certified (12 ga): $

2870

​​​ + tax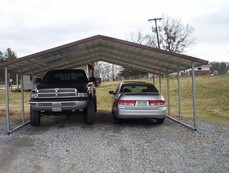 18x21x6 Boxed Eave Style Carport
(horizontal panels)
​
Non Certified (14 ga): $

795

+ tax
Non Certified (12 ga): $

895

+ tax
Certified (14 ga): $

995

+ tax​
Certified (12 ga): $

1095

​​​ + tax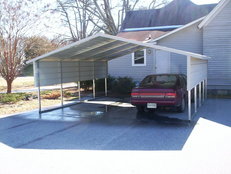 18x21x6 Boxed Eave Style Carport
(horizontal panels)
(2) Extra 21' Panels(horizontal)
​​
Non Certified (14 ga): $

995

+ tax
Non Certified (12 ga): $

1095

+ tax
Certified (14 ga): $

1195

+ tax​
Certified (12 ga): $

1295

​​​ + tax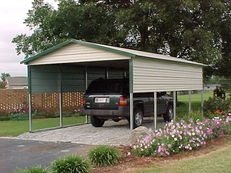 12x21x7 Boxed Eave Style Carport
(horizontal panels)
(2) Gable Ends(horizontal)
(2) Extra 21' Panels(horizontal)
​​​
Non Certified (14 ga): $

1195

+ tax
Non Certified (12 ga): $

1295

+ tax
Certified (14 ga): $

1445

+ tax​
Certified (12 ga): $

1545

​​​ + tax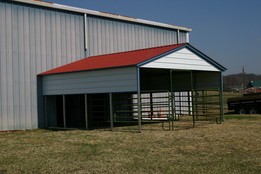 20x21x8 Vertical Roof Style Carport
(vertical panels)
(1) Gable End(horizontal)
(2) Extra 21' Panels​​​
​
Non Certified (14 ga): $

1785

+ tax
Non Certified (12 ga): $

1885

+ tax
Certified (14 ga): $

1920

+ tax​
Certified (12 ga): $

2020

​​​ + tax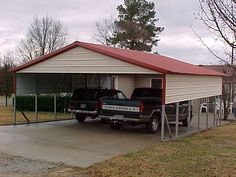 22x31x8 Vertical Roof Style Carport
(vertical panels)
(2) Gable Ends(horizontal)
(2) Extra 31' Panels(horizontal)​​
​
Non Certified (14 ga): $

3205

+ tax
Non Certified (12 ga): $

3355

+ tax
Certified (14 ga): $

3405

+ tax​
Certified (12 ga): $

3555

​​​ + tax
20x31x9 Vertical Roof Style Carport
(vertical panels)
(2) Extra 31' Panels(horizontal)
​​
Non Certified (14 ga): $

2580

+ tax
Non Certified (12 ga): $

2730

+ tax
Certified (14 ga): $

2730

+ tax​
Certified (12 ga): $

2880

​​​ + tax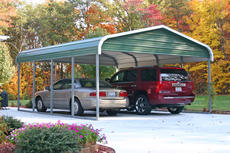 18x21x6 Regular Style Carport
(horizontal panels)
​
Non Certified (14 ga): $

695

+ tax
Non Certified (12 ga): $

795

+ tax
Certified (14 ga): $

895

+ tax​
Certified (12 ga): $

995

​​​ + tax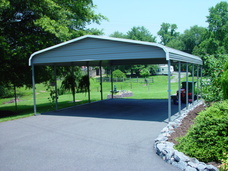 20x26x7 Regular Style Carport
(horizontal panels)
(2) Gable Ends(horizontal)​
​
Non Certified (14 ga): $

1555

+ tax
Non Certified (12 ga): $

1680

+ tax
Certified (14 ga): $

1805

+ tax​
Certified (12 ga): $

1930

​​​ + tax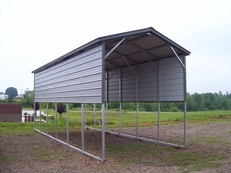 12x31x10 Vertical Roof Style Carport
(vertical panels)
(4) Extra 31' Panels(horizontal)​
​
Non Certified (14 ga): $

2565

+ tax
Non Certified (12 ga): $

2715

+ tax
Certified (14 ga): $

2715

+ tax​
Certified (12 ga): $

2865

​​​ + tax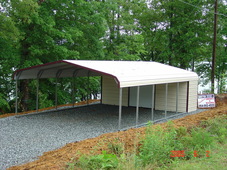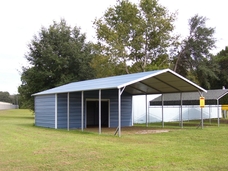 18x31x7 Boxed Eave Style Utility Carport
(horizontal panels)
10' Enclosure
(1) 6'x6' Garage Door​​
​
Non Certified (14 ga): $

3015

+ tax
Non Certified (12 ga): $

3165

+ tax
Certified (14 ga): $

3495

+ tax​
Certified (12 ga): $

3645

​​​ + tax
18x31x6 Regular Style Utility Carport
(horizontal panels)
5' Enclosure
(1) 6'x6' Garage Door​​
​
Non Certified (14 ga): $

2440

+ tax
Non Certified (12 ga): $

2590

+ tax
Certified (14 ga): $

2920

+ tax​
Certified (12 ga): $

3070

​​​ + tax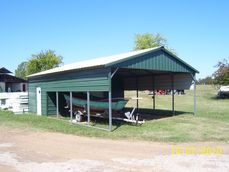 18x31x7 Vertical Roof Style Carport
(vertical panels)
10' Enclosure
(1) Gable End(vertical)
(2) Extra 21' Panels(horizontal)
(1) 6'x6' Garage Door​​​​
(1) 32"x72" Walkin Door​
​
Non Certified (14 ga): $

3940

+ tax
Non Certified (12 ga): $

4090

+ tax
Certified (14 ga): $

4420

+ tax​
Certified (12 ga): $

4570

​​​ + tax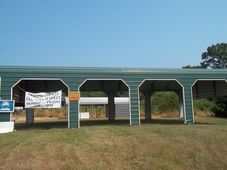 22x46x9 Regular Style Side Entry Carport
(horizontal)
(2) 1/2 Ends Closed(horizontal)
(8) 9'x8' Opeings​​
​
Non Certified (14 ga): $

5695

+ tax
Non Certified (12 ga): $

5920

+ tax
Certified (14 ga): $

6315

+ tax​
Certified (12 ga): $

6540

​​​ + tax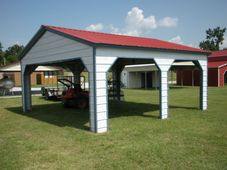 20x21x8 Vertical Roof Style
​Side Entry Carport
(vertical)
(2) 18'x7' Openings
(4) 9'x7' Openings​​
​
Non Certified (14 ga): $

2865

+ tax
Non Certified (12 ga): $

2965

+ tax
Certified (14 ga): $

3195

+ tax​
Certified (12 ga): $

3295

​​​ + tax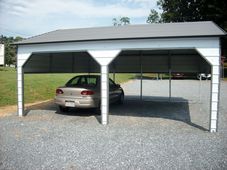 20x21x8 Boxed Eave Style
​Side Entry Carport
(horizontal)
(2) 9'x7' Openings
(2) 1/2 Ends Closed(horizontal)
(1) Extra 21' Panel(horizontal)​​​
​
Non Certified (14 ga): $

2373

+ tax
Non Certified (12 ga): $

2473

+ tax
Certified (14 ga): $

2658

+ tax​
Certified (12 ga): $

2758

​​​ + tax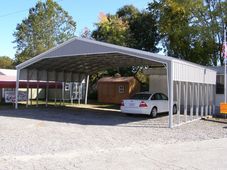 40x31x10 All Vertical 40 Wide Carport
(Vertical)
(2) Extra 31' Panels(vertical)

Certified (14 ga): $

8705

+ tax
Certified (12 ga): $

9405

+ tax​​​​​​​​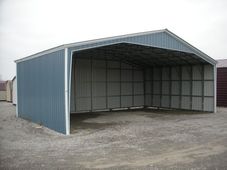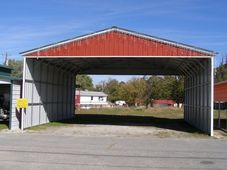 38x26x12 All Vertical 40 Wide Carport
(Vertical)
(1) Gable End(vertical)
(1) End Closed(vertical)
Both Sides Closed(vertical)​​

Certified (14 ga): $

11,180

+ tax
Certified (12 ga): $

11,780

+ tax


30x36x11 All Vertical
​Triple Wide Carport
(Vertical)
(2) Gable Ends(vertical)
Both Sides Closed(vertical)​

Certified (14 ga): $

7550

+ tax
Certified (12 ga): $

8150

+ tax​​​​​​​​